Cap Negret Hotel's Measures COVID-19

Relive the experience of romanticism fulfil your dreams in the Mediterranean Sea.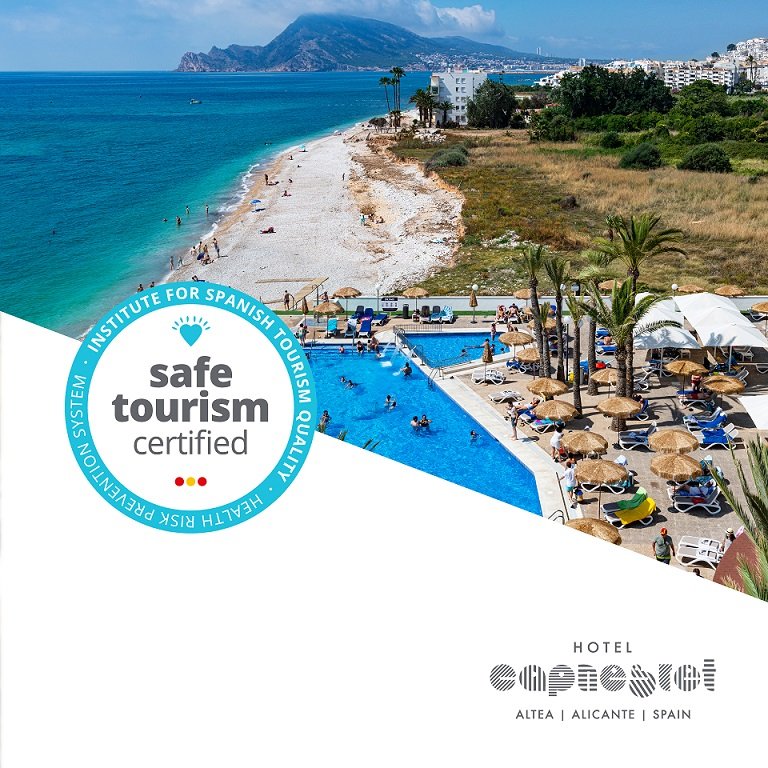 width="640" height="400"/>






Hello, we are working so that your dreams come true and see us very soon ... in June, July or better August?
Make your plans and come to Mediterranean! We are taking care of everything else so that you can relax and enjoy a few well-deserved days of rest ... and so that you forget everything ... breathe the breeze from the Mediterranean Sea, sunbathe and live life!


WE HAVE IMPROVED FOR YOU

First and foremost, the number one priority for CAPNEGRET is the safety, health and well-being of all our guests and human team, therefore we follow and comply daily with the guidelines and recommendations issued by the government of Spain as well as by the world health organization.
That is why for the moment the hotel plans to reopen again to welcome you on Friday June 26as long as the measures and advice provided by the Spanish government allow us to do so.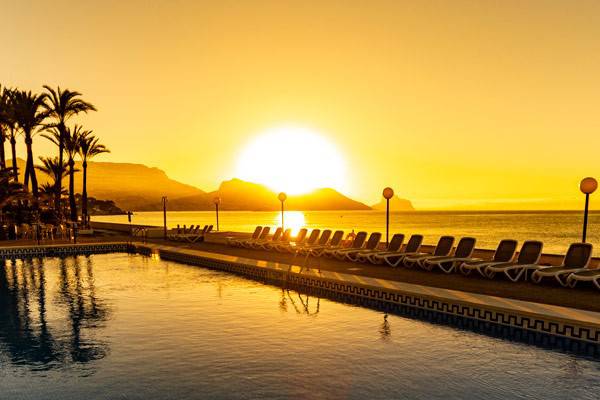 1. EXTREME HYGIENE

Extreme hygiene is the first guest this year and it has come to stay
During the first fortnight of March we already put into practice all the hygiene measures required by the Ministry of Health and also those that we imposed on ourselves. Now we will continue with them and we have reinforced them.
We work with an approved external company that certifies the daily and nightly cleaning of each and every corner of the hotel, including terraces, hammocks, furniture, common areas, rooms, lifts, corridors, reception, dining room, kitchen, as well as the analysis of the environment, train washing more than 80, water treatment, cleaning air filters in common areas at a temperature of about 23 Cº, cleaning surfaces, cleaning products throughout the hotel, all used according to the prevention measures COVID-19 implemented by the competent agencies of Tourism. Establishment and signalling of all safety distances in areas of operation.
Hydroalcoholic gel for hands in every strategic point and masks will be at your disposal every time you ask for them!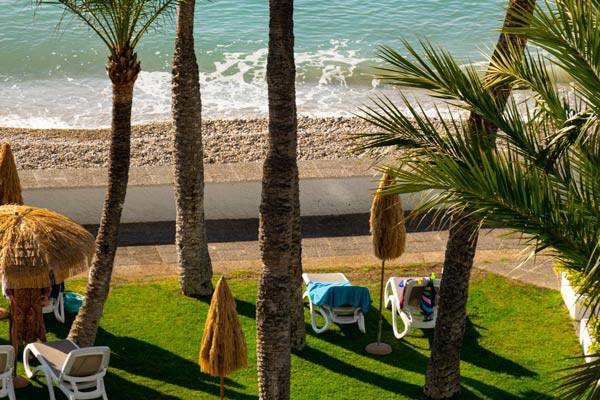 2. DESERTED CAP NEGRET BEACH

As you know and can see in the photos, totally open to the Mediterranean...with two direct accesses from the hotel to Capnegret Beach so that this summer you can enjoy it more than ever and feel that the breeze is only for you. Hammocks with a separation of at least 2 meters between them (respecting couples or families). Umbrellas and hammocks available for use in all areas.
Beach and pool towels in the room in individual bag to unseal.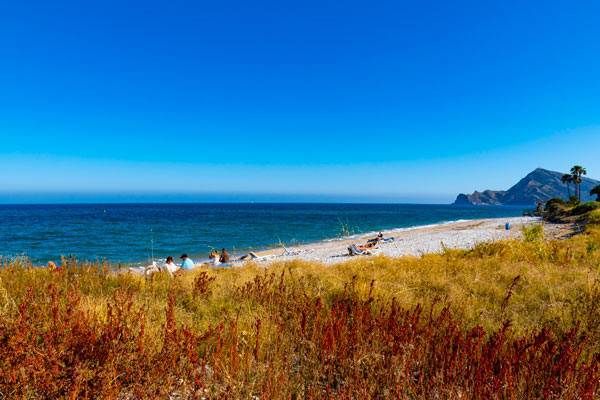 3. UNIQUE ROOMS

All of them have a balcony, lateral views to the sea or frontal views that will allow you to have the sea breeze for you. In addition, the architecture of the hotel allows, if you wish, to have crossed ventilation in your room opening the big windows of the corridors and the great central dome.
Also the cleaning will be carried out in an exhaustive way whenever you are absent, with cloths, mops and disposable material for each client, and with bed clothes treated in professional laundry at more than 60 Cº. Come and enjoy the Mediterranean in pure style.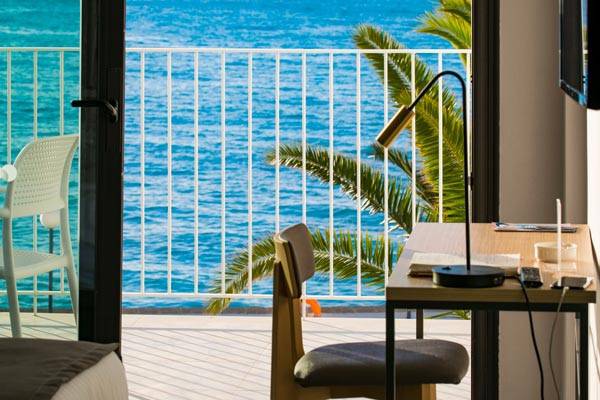 4. RELAXATION ROOMS AND DINING ROOMS

As you know in CAPNEGRET the spaces are all very wide, with natural light and unique views to the turquoise blue sea that characterizes us. Now they have been redesigned to guarantee you the space you need and enjoy:
First of all the restaurant, keeping its essence of Mediterranean cuisine with a modern style, has been adapted to Showcooking and service of individual and personalized portions avoiding at all times that the customer can handle any tray, tongs or cutlery to serve.
What else have we adapted? The breakfast will be served at the time by our personnel being able to ask for tortillas, pancakes, scrambled eggs etc, the bread will be always served, salt spices and sauces only in monodose or dishes seasoned by the chef, the fruit portions, desserts or some suggestion of salads will be served in individual format with their protective film.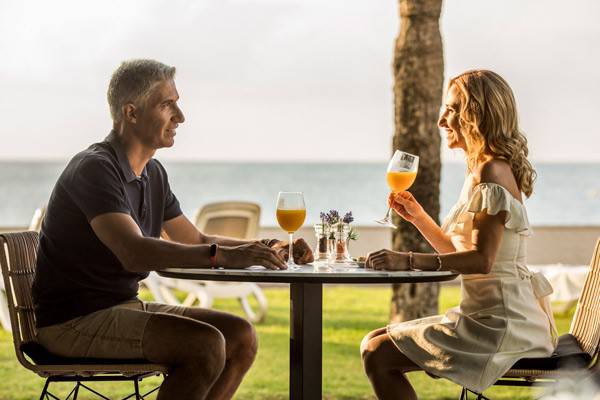 5. CHILL OUT

All tables in these spaces have been relocated and properly separated by at least 3 meters between tables.
We have put a lot of emphasis on the dining room where we have prepared different shifts of services whenever necessary and the occupation allows it (for the three services: breakfast, lunch and dinner) with the objective of reducing the affluence, respecting the security measures and above all enjoying our rich gastronomy.
The services of our bar, chiringuito and ice-cream parlour will be treated with maximum delicacy keeping the distances, with individual rations. And as for the menus, they will be digitalized!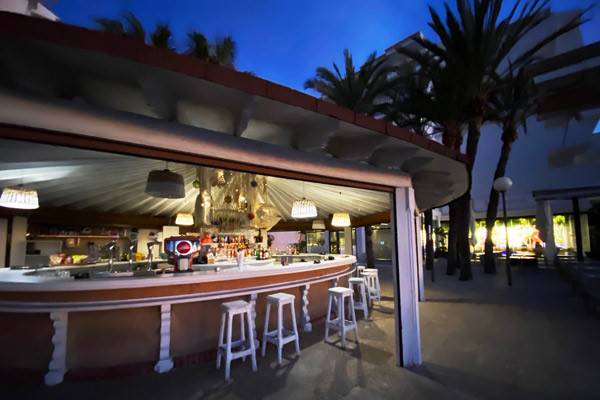 6. OUR TEAM

That's why before you come all will be trained specifically in preventive measures COVID-19 special for hotels and resorts to offer you as always the best of experiences. Likewise, looking after your safety and that of everyone else, every day before they start work they will go through a health check and also sign a declaration that they have not been in contact with any sick person or person with symptoms. In the event of perceiving any symptoms, they are also obliged to inform the Human Resources management with any possible suspicions.
All personnel are provided with all the necessary protective equipment according to their position and task. We have taken all these precautions with the well-being and health of all in mind, but they are also subject to the modifications that the Ministry of Health and the Government of Spain will be updating at all times.